Leadership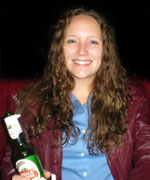 Kristin Sheppard, President
Kristin Sheppard is the writer behind pop culture blog Mad Betty, where she's chronicled Austin's most notable eats, events, and everything in between. When not blogging or working as Creative Director at Giant Squid Media, she can be found cooking, enjoying happy hour and participating in Austin's WordPress community.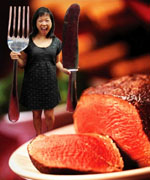 Michelle Cheng, Vice President
Michelle Cheng is the CEO (Chief Eating Officer) of Foodie is the New Forty, where she has been documenting her favorite food finds since 2009. In between meals, she practices law and seeks out street art to photograph with her very patient dog, Mindy.

Serena Lissy, Treasurer
Serena Lissy is a food photographer, recipe developer and pastry chef that loves creating culinary masterpieces. She has been writing her blog about photography and her love of confections since 2013. Serena volunteers frequently with multiple Austin charities, and is also Vice Chair for the food photography and stylist section of the International Association of Culinary Professionals. When she isn't blogging you can find her paddle boarding on the lake or riding her bike through the hills of Austin.
Natalie Paramore, Secretary
Natalie Paramore is a 20-something gal cooking and eating her way through Austin, Texas, and a few other places along the way. She loves to travel, is an avid reader and always up for anything that will get her adrenaline pumping. When she's not trying out something new for her blog, Food Fetish, you can find her hanging out with her dog Mimi.
Heather Santos, Membership Chair
Heather Santos blogs about her cooking and baking experiments and dinning out at Midnite Chef. She is the QA Manager for FieldComm Group in Austin, Texas. When not at her desk or in the kitchen, Heather is playing roller derby!


Emily Teachout, Marketing Chair
Emily Teachout hails from the west coast but has been working in culinary marketing and events in Austin since 2012. She chronicles her healthy-ish hedonism in her blog A Time to Kale, and is also the contributing editor and social media manager for Endless Simmer. Her work has been featured in Huffington Post Taste and The Hairpin/The Awl. When she's not cooking, tweeting, or happy hour-ing, Emily enjoys running, marathoning trashy TV, wine tasting, and playing with her German shepherd puppy.
Linda Nguyen, Social Chair
Linda Nguyen documents her passion for food and adventure through her food blog at Girl Eats World and personal blog at Curious Notions. She's been sharing her life on the internet across many platforms since she was a teenager and is currently juggling three instagram accounts: @curious_notions, @bobthedogatx, @doodlesaboutfeelings
Shef Ravula, Education Chair
Shef Ravula is a cooking instructor in Austin, Texas who develops and writes recipes, and owns a blog called Shef's Kitchen. Her blog is designed to be inspirational to others and encourages them to try a meal share program of their own, and to see what kind of recipes others have tried.

Megan Myers, Byte of Texas Conference Chair
Megan Myers is a freelance writer, recipe developer, and copyeditor. She has been writing her blog Stetted since 2006, where she chronicles her time spent cooking for her family with an emphasis on balanced eating and local sourcing. She is a regular contributor to Food Fanatic, Recipe.com, and the Whole Foods Market blog.
Peter Tsai, Technology Chair
Peter Tsai is a content guy, IT blogger and show host by trade and a sometimes photographer, food blogger, globe trotter and Instagrammer by night. He likes eating, tweeting and keeping an eye out for the next big trip or food adventure. You can find his work in the book Austin, Texas: A Photographic Portrait or on his personal photography blog or Austin food blog.
Kathryn Hutchison, Immediate Past President
Kathryn Hutchison writes about the Austin food community and life as a home cook on her blog, Austin Gastronomist. She has been blogging since 2003, and her work has been featured on Foodpress.com, Tastespotting, and the Food News Journal's "Best of Blogs."
 The AFBA Advisory Council includes:
David Ansel, Chef/Owner The Soup Peddler Real Food and Juice Bar
Vance Ely, Central Market cooking school
Elizabeth Englehart, Foodways Texas, UT professor, author
Mando Rayo, Cultural Strategies, Taco Journalism
Jam Santichat, Thai Fresh
Dave Shaw, Arsenal
Toni Tipton-Martin, IACP host chair, food writer and SANDE Youth founder
Marshall Wright, ATX Man, EatThisLens.com
Elizabeth Winslow, Sustainable Food Center
Evelyn Sher, ELM Restaurant Group
Natasha Powell, Bread and Butter Public Relations