Sat, April 16, 2016, 2-4 pm – Colossal Curry Cookoff
Austin Food Blogger Colossal Curry Cook-off
Shangri-La, 1016 E. 6th Street
Our first curry cookoff was a huge success!  Over 200 people attended and enjoyed curry made by eighteen different cooks. Huge thanks to our amazing sponsors – we could not have done it without you! See you next year!
August 27, 2014: The Austin Winery & Chef Carlos Crusco 5:30-7pm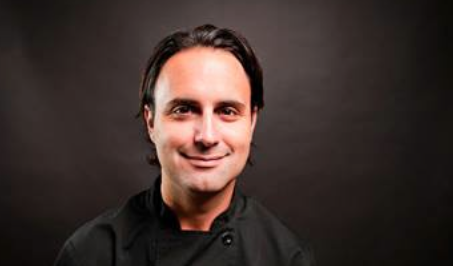 For all our wine-loving foodies in AFBA, our August happy hour was a special one at The Austin Winery! Personal Chef Crusco provided complimentary Argentinian tapas and bites paired with the fine Texas wine!
CEO Ross Rossipher McLauchlan and Head Winemaker Cooper Matthew Harris Anderson hosted this exclusive wine tasting at their new location on Tuscany Way. They walked us through their amazing wines at their beautiful tasting room.
Chef Crusco is an Argentinian personal chef specializing in private events, corporate meetings, cooking classes and family meal packages. He is inspired by Argentine and Mediterranean food, specifically Italian, Spanish and French. Check out his website for some of his tapas menus and some recipes (He is totally a food blogger, too!). He also teaches cooking classes with an emphasis on plating and presentation– how perfect for us! His website: http://chefcrusco.com/
AFBA Member Lindsey wrote all about the fantastic evening on her blog, The Food Goob. Thanks for the fabulous write-up!
 http://thefoodgoob.wordpress.com/2014/09/20/afba-happy-hour-at-the-austin-winery/
January 29, 2014: No Va 87 Rainey St. Austin, Texas 78701 5:30-7pm
February 26, 2014: The Whole Foods Fiasco! We tried a remote happy hour at the Whole Foods around town. It was a disaster– nobody could find each other. It was more like a happy hour scavenger hunt…
March 26, 2014: G'raj Mahal 5:30-7pm celebrating the opening of G'raj Mahal's brick and morter location!
April 30, 2014: Finn & Porter 5:30-7pm
May 28, 2014: Trace 5:30-7pm
June 25, 2014: We took a break from HH this month! Instead, we enjoyed the BIG CHILL on June 26th.
July 30, 2014: Hightower 5:30-7pm
May Happy Hour at Trace!
Thanks so much to Trace for hosting a beautiful happy hour for our members this month! Look at theses beautiful dishes we sampled from their spring menu!
January 18-19: San Antonio AFBA Overnight Trip
The AFBA convened in San Antonio for a culinary vacation in January of 2014. Beginning with brunch on Saturday, we stuffed ourselves with our neighboring cities best of the best. Saturday night featured a progressive dinner, where we enjoyed happy hour, appetizers, entrees and desserts– each at a different location.
Check out some of our recap posts here:
ATX Food News: Nibbles, Sips and Shopping Trips
Three Diets One Dinner: San Antonio Culinary Tour
Austin Gastronomist: Remember the Alamo
For this trip, we used the hashtag #AFBAfoodtourSA and generated a ton of buzz while we toured San Antonio. Check that out, too! 

Did you go on this trip and write about it? If so, send us a link to social@austinfoodbloggers.org and we will feature it here!
This was our amazing schedule. It was SO FUN! We can't wait to plan another culinary field trip in the near future!
Saturday, January 18, 2014
Farmers Market 9am-1pm at the Pearl
12:30pm Lunch/Brunch at Arcade Midtown Kitchen
Break to explore San Antonio!
4:30 Exclusive AFBA Tour of the CIA, Culinary Institute of America
Progressive Dinner:
~5:30 Special Cocktail reception hosted by the CIA at NAO, the CIA's restaurant
Break to Explore the Pearl
7:30pm Dessert and Wine at Boiler House 
Sunday, January 19:
10:30am Brunch at Feast
2013 Happy Hours!
In 2013, the Austin Food Blogger Alliance established a monthly informal happy hour for its members. It gives bloggers the chance to come out from behind their cameras and laptops, without aprons on, to enjoy some laid-back foodie fellowship.
Held on the last Wednesday of every month, these happy hours are held at a new location each time.  This gives bloggers the opportunity to explore the buzz-invoking establishments all around Austin! The locations and dates are posted in the AFBA newsletter and as a Facebook event on the AFBA member page. If you have a new location or suggestion for a future happy hour, please email our social chair, Bo Duncan at social@austinfoodbloggers.org. Please check out our Upcoming Events Page for happy hours in 2014!
Past events have welcomed an average of 10-15 bloggers at the following locations: The Flying Saucer (Triangle), Paggi House, The Tiniest Bar in Texas, and CU-29 Cocktail Lounge. We try to change up the vibe each time for a change of pace. We are always looking for a unique adventure where we can connect as fellow bloggers, but most importantly, as friends. Here are some of our highlights:
August 28, 2013: NoRTH Italian Farmhouse 11506 Century Oaks Terrace Suite 124 Austin 78758
September 25, 2013: Home Slice Pizza S. Congress, Austin, TX 78704 RECAP LINK HERE
October 30, 2013: RIO Rooftop 601 Rio Grande St. Austin TX 78701 FREE HAPPY HOUR!
H ere is a great review of this event by member Emily Teachout at A Time to Kale: RIO AFBA HH
November 20, 2013: Shady Grove  1624 Barton Springs Rd ATX 78704
This happy hour is limited to 20 members. Please sign up on the Eventbrite page here: http://www.eventbrite.com/event/9051303693 and we will draw names based on a lottery (We've done this before).
Shady Grove will provide FREE wine sampling and free appetizers for this event. Members only!
December 18, 2013: Gourdough's Public House 2700 S. Lamar Austin TX 78704 5:30-7:30pm
Check out OhSpoonings! recap of our Holiday Happy Hour and Prop Swap here: AFBA HH
Prop Swap Holiday Party! Bring in your plates, bowls, cutlery and kitchen towels that have outstayed their welcome on your blog. We will exchange props while enjoying some holiday cheer at this last happy hour of the year!
At 7:00 sharp, we will hold a drawing to get this prop swap started! You will draw a number out of a hat, then take home the prop with that corresponding number! If you get your own, or want to trade, that's up to you. I will certainly give you a great chance to meet a new blogger!
Austin Food Blogger Alliance book featured at Texas Book Festival

Join us at the Texas Book Festival to see food blogger Addie Broyles demo her grandmother's recipe for coffee cake, a recipe featured in the Austin Food Blogger Alliance Cookbook, in the cooking tent on the Capitol's grounds Sunday, Oct. 27 at 11 a.m.
Broyles, food writer for the Austin American-Statesman who also writes "The Feminist Kitchen" blog, will represent the Austin Food Bloggers Alliance with a demo as well as a discussion about why community cookbooks are important.
The Austin Food Blogger Alliance Cookbook, which was released in the spring by The History Press and includes recipes from about 70 local food bloggers, will be for sale.
For more information, visit austinfoodbloggers.org/category/cookbook or www.texasbookfestival.org.
September 28, 2013: AFBA Photo Camp
8:30 AM to 5:30 PM (CDT)
Are you tired of being rejected by FoodGawker? Do your Instagram pics leave commenters asking just what is that? Are all your family photos dark and blurry? You're not alone. Join us for Photography Camp!
Learn more about Photography Camp here.
September 25, 2013: Home Slice Pizza September Happy Hour
5:30 PM to 7:00 PM (CDT)
Austin, TX
Check out the recap of our first sponsored monthly Happy Hour here: Home Slice Happy Hour
Missed this one? Check out our monthly Happy Hour schedule here: Upcoming Events
April 16, 2013: AFBA Cookbook Launch Party at Freedmen's
5:30 PM to 7:30 PM (CDT)
Austin, TX
Check out all the buzz generated by the cookbook launch at Freedmen's:
March 12, 2013: Jordan Wine & Antonelli's Cheese Social
5:30 PM to 7:00 PM (CDT)
Austin, TX
Several members had great things to say about the Jordan Wine and Antonelli's Cheese Social:
Jan. 23: Community Cookbook Kickstarter Happy Hour
Wednesday, Jan. 23, 2013, 6 p.m. to 8 p.m.
Join us at Olive and June on Wednesday, January 23, 2013 from 6 to 8pm to help kickstart our Austin Food Bloggers Alliance Community Cookbook. Enjoy wine and hors d'oeuvres compliments of Olive and June while we introduce the cookbook to the Austin community. The inaugural AFBA community cookbook will be available for presale for the first time! This is an free event, open to members and guests but with limited space. "Purchase" your free tickets now to reserve your space for this fun and exciting social hour with the Austin Food Blogger Alliance!
RSVP here: http://afbakickstarter.eventbrite.com/
Dec. 1: AFBA Winter Bash & Food Blogger Trivia
Saturday, Dec. 1, 2012, 3 p.m. to 5 p.m.
Are you ready to test your brain among your fellow food bloggers and end the year with fun? Join us Saturday, December 1 at Gourmand's as we battle on topics ranging from Austin food businesses to exotic ingredients to your fellow bloggers! The party will start at 3 p.m. with the trivia beginning soon after, so please be sure to be on time! We'll divide into teams, and questions will be broken into rounds, with time between each round for scoring. We've got a few prizes lined up for the winners, just in case you need extra incentive! Snacks and iced tea will be provided.
*Please note, due to the space constraints this event is open to AFBA members only. 
Nov. 10 – Dec. 31: Meet Me at the Market Blog Challenge
Deadline for posts to be included in the Meet Me at the Market Blog Challenge is December 31. Details have been emailed to all who participated in the launch or RSVP'd to  the kickoff event. Members who could not attend the launch but would like to learn more about participating in this philanthropic blog campaign, please contact Michelle Fandrich, chair of the Philanthropy committee, at 
philanthropy@austinfoodbloggers.org
.
Oct. 24: AFBA Education Event – Monetizing Your Blog
Tuesday, Oct. 24, 2012, 6 p.m. – 8:30 p.m.
Where: Evernote Austin Offices, 6504 Bridgepoint Parkway, Suite 400 Austin, TX 78730
You've created great content. You've grown a loyal following. How can you turn your hard work into a few dollars? Join the Austin Food Blogger Alliance for an educational event on how to monetize your blog. We'll touch on the three categories of monetizing content.
Sept 8: AFBA Cookbook Potluck
Saturday, Sept. 8, 2012, 5:30 p.m. – 8 p.m.
Where: Springdale Farm
On September 8, we'll be hosting a potluck at Springdale Farm featuring dishes from our upcoming community cookbook. In an effort to create a book with recipes that are as clean and error-free as possible, we need to test each of the recipes at least once. We are asking members who have submitted a recipe to test at least one other recipe. If you haven't submitted a recipe but want to test one, we'll be happy to give you a recipe to test.
The potluck is a way for us to share the dishes we make, collect feedback on the recipes, photograph some of the dishes that need to be reshot and get some group shots of us together. (Maybe even a cover photograph!) Look for an email from testing coordinator Lindsay Bailey about which recipes we are asking each member to test and what feedback we need from testers. If you have questions about this part of the project, email Addie at broylesa@gmail.com.
July 25: Cupcakes & Cocktails
Wednesday, July 25, 2012, 6 p.m. – 9 p.m.
Mark your calendar on Wednesday, July 25 from 6 to 9 p.m. for "Cupcakes & Cocktails" – bringing together Austin's best bakers and food bloggers to raise funds for Bake A Wish, a 501(c)(3) non-profit organization providing birthday cakes and other baked goods to children in shelters and foster homes, the elderly, disabled, and other underserved communities in the greater Austin area. Please visit www.bakeawishaustin.org to learn more about this amazing organization of caring volunteer bakers.
Other than delicious cocktails and catering by The Carillon, the event will feature a silent auction, and a tasting of cocktail-themed cupcakes.
The event will be held in the Tejas Room of the AT&T Executive Education and Conference Center, located on the campus of UT Austin. Tickets are now available for purchase — $35 for non-members, and at a discounted rate of $25 for AFBA members and the volunteers of Bake A Wish (you'll find the promotional code in an upcoming newsletter). Buy tickets now at http://afba.ticketbud.com/cupcakes-cocktails.
Thanks to our event sponsors:
May 19: Day Trip to San Antonio
Saturday, May 19, 2012, 9:00 a.m. to 7:00 p.m.
9:00 a.m. – Meet at Progress Coffee (500 E. 4th, Austin, Texas)
9:30 a.m. – Leave Austin (carpooling is encouraged)
11:00 a.m. -12:30p.m. – Walk the Pearl Farmer's Market and property for a snack/early lunch
12:30 p.m. – Group walks to Culinary Institute of America 
1:00 p.m. – Culinary Institute of America (CIA) Tour
1:45 p.m. – Snack, chill, chat
3:00 p.m. – Tapas tasting with savory bites like Papas Bravas, Quesadillas, and their house specialty, plantain tostones at OCHO lounge at Hotel Havana.
5:15-7 p.m. – Drive back to Austin
Register here. Ticket price covers the tasting spread, one drink, fees and gratuities at Hotel Havana. This is a members only event. Each member in good standing is allowed to bring one guest, ticket price is per person.Tickets cost $40 per person and must be purchased by May 14th in advance.
April 3: Recipe Writing 101
Tuesday, April 3, 2012, 7:00 p.m.
Plaza Level at Whole Foods Market global offices, above the store at Sixth Street and Lamar Boulevard. Guests can access the Plaza level via the elevators marked "office" from P1 or P2 parking levels, or via the staircase from the surface parking lot, and through the double glass doors.
The class is free to members and $15 for non-members, who can sign up and pay via EventBrite.
Food writers Karen Morgan (founder of Blackbird-bakery.com and author of "Blackbird Bakery Gluten-Free"), Ann Clark (author of "Quick Cuisine" and "Ann Clark's Fabulous Fish," and founder of Austin's first cooking school), and Michael Chu (of the award-winning blog ,Cooking For Engineers) will walk us through some of the pitfalls that beginning recipe writers often fall into and help navigate some of the more nuanced steps of creating recipes that are clear, concise and easy to follow.
Elizabeth Engelhardt, author of "Republic of Barbecue," and an American history and women's studies professor at the University of Texas who specializes in foodways, will kick off the class with brief history of community cookbooks and a reminder of why they still matter today.


February 9: Volunteer Evening at Capital Area Food Bank of Texas
Thursday, February 9, 2012, 6:00 pm – 8:30 pm
Capital Area Food Bank of Texas, 8201 S. Congress Ave., Austin, TX 78745 Directions
Register here. NOTE: This is for AFBA members aged 18 years and over, in good standing only. Members may bring one guest, aged 18 years and over only.
Join fellow food bloggers in giving back to Austin's less fortunate. We'll spend the evening working behind-the-scenes at the Capital Area Food Bank of Texas, sorting donations and helping to get food into the hands of Austin's hungry. All participants must arrive on time and stay for the entire shift.  Volunteer orientation and training will take place at the beginning of your shift. Please come dressed to work. Volunteers must wear long or short-sleeved shirts – no tank tops – and long pants. Please leave personal items such as cell phones, personal music players, and purses in your car. Cell phone and personal music player use is not allowed in the CAFB warehouse. All volunteers MUST wear closed-toe shoes. Volunteers for this evening shift must be 18 years of age or over.


December 11: AFBA Winter Social/Kitchen Gadget White Elephant
Sunday, December 11, 2011 from 2:00 PM to 4:00 PM
Walton's Fancy & Staple
609 West 6th Street
Register HERE. NOTE: This is for AFBA members in good standing only, members may bring one guest.
Let's celebrate our accomplished first year as the Austin Food Blogger Alliance and create some winter cheer with sweet treats and sips at Walton's Fancy & Staple! AFBA members are invited to attend and may bring one guest.
*Limited parking is available on the East side of the building. If the lot is full, we recommend street parking on West 6th St. or just North of 6th. in the residential blocks nearby.
KITCHEN GADGET WHITE ELEPHANT GIFT EXCHANGE: Those who want to participate in this gift exchange should bring one wrapped kitchen gadget/utensil under $10. Get silly! Egg slicers, grapefruit spoons, muddlers, gadgets that are hard to find a use for…pick up a pecuiliar kitchen-related item, wrap it up, and bring it to the social. Gifts will be exchanged 'white elephant' style at 3 p.m. (if you're unfamiliar, we'll show you the ropes!), and will leave with a new cooking toy! Get ready to swap!
October 9: Photography Workshop at Aviary
Sunday, Oct. 9th, 2011 at Aviary Lounge
1:30 -2:00 pm – Meet and greet other members
2:00 – 2:30 – Panel Discussion with Q&A
2:30-3:45 Hands on work
3:35 – 4:00 Conclusion
$10 for AFBA members, $15 for non-members
Food for photography and for nibbling will be provided.  Workshop fees will be used to cover the expenses of the food.  Attendees are encouraged to purchase their own drinks.
Register HERE. Tickets are highly limited.
Pictures are worth a thousand words, but those thousand words aren't easy to capture.  Join us for a hands on photography workshop.  The workshop will start off with a brief panel discussing common photography problems, hands on work, and a conclusion showcasing photographs from the workshop.  The workshop will include food for photography (and eating) under different lighting conditions.  Attendees should be prepared to shoot photos, and they are encouraged to bring their equipment and laptops.
Workshop leaders include:
Don Mason (@AngrySong) – Don Mason is a farmer's market regular and home chef extraordinaire.  When Don isn't shopping for fresh ingredients for his next meal, he's shooting photos or participating at the local Flickr meet up.
Matthew Lemke (@SnapMatt) – Matt is a professional commercial and portrait photographer specializing in providing advertising and marketing imagery for small and large businesses alike. Previously from Austin, he started pursuing photography professionally 11 years ago in Orlando, FL, returning to Texas in late 2004.
Marshall Wright (@MarshallWright) – Marshall is a social media strategist, community evangelist, photographer, cook, dad, husband, blogger, technologist.  Marshall shoots photos for Edible Austin.
John Knox (@Windaddict / @Hopsafari) – John is a windsurfer, software developer, and mobile app developers.  John recently published a photography book titled Crafting Beer with (512), and he is an active member local Flickr meetup group.
Peter Tsai (@SuperTsai) – Peter recently published a book entitled "Austin, Texas: A Photographic Portrait," a 128 page 8.5″ x 11″ coffee table highlighting landmarks around Austin Texas. You can learn more about the book at AustinPhotoBook.com and you can purchase the book on Amazon.com.  Peter's is a portrait and travel photographer who specializes in capturing motion.
Loren Root (@theleftoverchef) – Loren was the 2009 winner of Chefs Under Fire.  Not only does he make a mean piece of meat, Loren is an avid food and travel photographer.
August 21: Pie-Safe Fundraiser for SafePlace
We are excited to announce that tickets are now available for our special screening of Waitress at the Alamo Drafthouse South Lamar on August 21 at 1 pm. Buy your tickets here before they sell out!
Read more about the movie and why it's a perfect fit for SafePlace and our pie theme in this Relish Austin blog post. The winning pie from the Austin Food Blogger Alliance's pie-luck competition — Michael Chu from Cooking For Engineers pecan pie — will be included on the menu. Chu will be working behind the scenes with Drafthouse executive chef John Bullington to make the pies.
Local businesses have provided pies to be sold by donation at the end of the movie. Proceeds from ticket and pie sales will go directly to SafePlace, an amazing local organization that is working to  end sexual and domestic violence through safety, healing, prevention and social change.
Businesses that have agreed to donate pie include Blue Bonnet Cafe, Cake & Spoon, Dagar's, Fleming's, Pie Fixes Everything, The Pie Society, Royers Round Top Cafe, Silver Whisk, SugaPlump Pastries, Sugar Mamas Bakeshop, Texas Pie Kitchen, Tiny Pies, Upper Crust Bakery, and The Wine & Food Foundation.
You can buy tickets to the movie through the Drafthouse's website.  SafePlace is also collecting back-to-school supplies and list other items based on need on their website.
More from philanthropy chair Kristina Wolter on "A Slice of Compassion."
---
July 30th: Pie-luck
Join us for a Pie-Luck, a potluck pie social where members bring 2 homemade pies of the same flavor.
Contest Details: The pies will be shared with the group and each entry judged by a panel of local chefs and food industry professionals, including Alamo Drafthouse Executive Chef John Bullington, Congress Austin Pastry Chef Plinio Sandalio, Wine & Food Foundation of Texas Executive Director T. Marshall Jones, Jesse Bloom, Chef/Owner of Ecstatic Cuisine, and Jocelyn Leffall of SugaPlump Pastries.
The lucky winner's pie will be featured on the menu at part 2 of this event: a public fundraiser for SafePlace and showing of the movie Waitress on August 21st at Alamo Drafhouse! The Pie-Luck contest* winner will also get to work with Chef Bullington in a commercial kitchen to learn how their pie will be mass-produced for the show!
*Click Pie-Luck Entry Form to download the Pie-Luck entry form and rules to participate. Please bring it completed with your pies.
When: Saturday, July 30th from 2-4 p.m. (contest pies must arrive by 1:45 pm to be considered for judging)
Where: House Wine, 408 Josephine
Who: AFBA members in good standing can attend even if you don't enter the contest, but please bring pie to share.
Cost: Members ARE responsible for wine purchases.
This is a members-only event.
For questions, email social@austinfoodbloggers.org
*A special thank you to House Wine for hosting us and to our guest judges.
---
June 8th: Learn about Copyrighting and Blogging
Copyright: How do I protect myself from legal trouble and how do I protect my content?
June 8th, 2011 at the AT&T Executive Education Center
6:30 – 7:00 pm – Meet and greet other members
7:00 – 8:30 – Panel Discussion with Q&A
Free for AFBA members, $10 for non-members
RSVP HERE.

With the popularity of content sharing platforms, posting content that is freely available online seems like a good idea. Posting a popular video or photograph to your site can drive a tremendous amount of traffic. But before clicking send, do you think about copyright law?
Using copyrighted photos, re-posting recipes, and using music are all ways that can land you into legal troubles along with legal fees. Join Anthony Campbell and Rachel Farris on Wednesday, June 8th to discuss copyright issues and blogging. Rachel Farris will share her personal experience of having a photograph stolen. Anthony Campbell will share his legal expertise in how to handle legal action and how to protect your work from theft.
Issues we'll discuss include:
Someone refuses to remove my content from their site. What should I do?
I received a cease and desist. What do I do now?
What are the different types of licensing for content?
A fellow blogger stole my work. How should I approach a friend?
Do I need to file for copyright on all my blog posts?
Should I trademark my blog name?
I received a letter demanding that I give up my domain name. Is this legal?
Meet Rachel:
Native Texan and Democratic activist Rachel Farris (@MeanRachel) writes MeanRachel.com, a progressive blog that follows politics, the legislature and how they both are affected by social media. She covered the 2008 Democratic National Convention with The Texas Observer team and has spoken about social media and communications at the University of Texas LBJ School of Public Affairs, Texas State University's "Mass Communications Week," and St. Edward's University. She also writes for The Huffington Post, currently serves on the board of Texas Democratic Women, and has served as the National Communications Director for the Young Democrats of America Women's Caucus. She is also known for her work at the Austin-based PetRelocation.com, where she oversees operations and directs online communications strategies to create brand awareness and foster relationships with pet owners online.
Meet Trey:  
Trey Ratcliff is best known for StuckInCustoms.com, which has become the #1 Travel Photography Blog on the Internet. On average, the photos get 175,000 views per day and over 60 million total. His work first became popular after Trey had the honor of having the first HDR photo ever to hang in the Smithsonian. After that, Trey was represented by Getty, featured on the BBC, ABC, FOX, CBS, and NBC, and has had numerous showings around the world.  Trey Racliff was also awarded a 2010 Texas Social Media Award, and currently shares his passion and knowledge for HDR with other photography enthusiasts.
Meet Anthony:
Mr. Campbell is trademark specialist with experience in advertising, marketing and contest law, along with use of image, likeness, name and voice. With a broad background in marketing and commercial practices, Anthony assists with visual, graphic and performance artists, authors, designers and architects on copyright licensing and infringement matters, and assists in negotiating performance, reproduction and publication rights agreements. Mr. Campbell has extensive experience in computer and technology law. As an electrical engineer with work experience in computer architecture that has maintained an e-mail address since 1988, he was at the forefront of Internet legal issues, handling domain name litigation in 1996, website user agreements, privacy policies, software licenses, website development and hosting agreements and general on-line, computer, copyright and intellectual property matters. In his free time, Anthony is an avid cyclist: Mr. Campbell have donated several thousand dollars of proceeds from his work to support his charitable bicycle rides, including rides from Houston to Austin, San Antonio to Austin, and Houston to New Orleans.
---
May AFBA Social Event
AFBA Farmers Market Potluck Lunch
Join the Austin Food Blogger Alliance for our first official social event!
How it works:
Visit the Downtown Farmer's Market (or a farmer's market near you) on Saturday, May 14th to pick up some locally grown/made edible goods. *If you want to run into other AFBA members shopping for the potluck, arrive at the Downtown market between 10 and 11 a.m.
Make a dish/drink with your farmer's market purchase(s).
Bring your dish/drink to 703 Theresa Avenue on Sunday, May 15th at 1 pm. to share a potluck lunch and mix n' mingle with other AFBA members.
*AFBA members may RSVP 1 guest.
NOTE: This is an AFBA members only event. Members must be in good standing to attend. To join the AFBA, please fill out the membership applications.
A special thank you to Taylor Perkins for providing the hosting venue for our potluck lunch.
---
April AFBA Philanthropy Event
2011 Annual CAFB Food Bank Challenge Kick-off
If you are a member and could not make it in person to the 2011 Austin Food Blogger Project on April 20th at the CAFB, you can still participate. For a summary and all of the details, Austin Food Bloggers Project 2011.