AFBA blogs in support of the Sustainable Food Center
In November and December of 2012, Austin Food Blogger Alliance members were paired up with local farmers and vendors who are fixtures at the Sustainable Food Center's Farmers' Markets held throughout Austin several days a week. Their mission: introduce their readers to the remarkable people behind the local food we cook with, eat, and enjoy. Along the way, they also shared the incredible work that the Sustainable Food Center does in and around Austin, through their weekly farmers' markets and beyond. This blog campaign was launched in support of the SFC's current capital campaign – an endeavor to raise funds for the SFC's new training center. For almost 40 years, the center has been without a homebase from which to host and organize their numerous programs supporting community health and disease-prevention through diet. These programs have immeasurable benefit, from breaking down barriers to fresh, nutritious, affordable food to supporting our local economy and local family farms. A permanent center would enable the Sustainable Food Center to reach more members of the Austin community.
In early November, AFBA members gathered at the Downtown Farmers' Market to hear more from Susan Leibrock and Suzanne Santos of the Sustainable Food Center and to meet some of the folks behind the food that you'll find there. Addie Broyles of the Austin American-Statesman and Relish Austin provided a few pointers for conducting interviews and composing a feature article, with the ready assistance of Tim and LeeAnne (who blogs at Dairy Berries) of Swede Farm Dairy. Thanks go to all who attended and to Susan, Suzanne, Addie, Tim and LeeAnne for providing us with so much food for thought!
Please visit the links below to learn more about the farmers and vendors our bloggers met during through the "Meet Me at the Market" blog challenge:
Notes from Maggie's Farm: (almost) wordless wednesday: meet me at the market
Austin Urban Gardens: Dai Due – Choose Food with Care and Confituras for the Holidays and Everyday
Connect a bite: Sustainable Food Center – Capital Campaign
South Austin Foodie: Meet Me at the Market: Sustainable Food Center + Cocoa Puro
Local Savour: From a Small Seed to a Large Farmsted: Johnson's Backyard Garden and Sustainable Food Center's Big Ambition
Kristi's Farm to Table: Growing Leaders at Urban Roots
And it's not too late to help support the Sustainable Food Center's capital campaign. As of this writing, they are almost 77% of the way to their goal and could use your help in making this local dream a reality. Click on the image below to donate.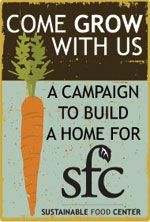 Michelle Fandrich, The Kid Can Cook
Chair, Philanthropy Committee