Member Spotlight: Ashley Blom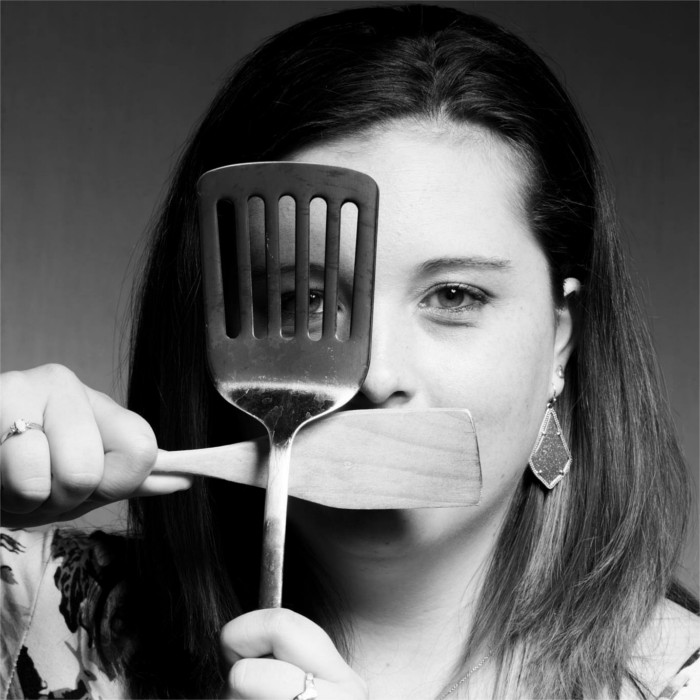 Austin Food Blogger Alliance member Ashley Blom spent too much money on a writing degree, but can't ignore her growing passion for good food. She expects to entirely do a career turnaround in 15 years and become a chef. In the meantime, watch her free-time cooking follies and novice foodie ramblings from Austin, Texas on her blog, Forking Up.
What inspired you to start a food blog? How did you start blogging?
I was a vegetarian in college. When I moved into my first apartment, I was lost–I didn't know how to cook! And with a limited diet, I couldn't just order in all the time. With some extreme Googling and much trials and tribulations, I was quickly known as "the roommate who makes us dinner," and was winning friends with my recipes.
My first blog, Quarter Life (Crisis) Cuisine was simply a storage place for recipes I liked. Eventually it grew into recipes I wrote myself, and upon moving to Austin and joining the AFBA, I got into reviews as well. This eventually grew into my current blog, Forking Up.
What do you love most about Austin's food scene?
It's not just BBQ and tacos, as I assumed when I first moved here. We have such a wide variety of cuisine for every palate and every pocket. I've tried more food here than I ever did growing up in New England.
Which three Austin restaurants/food trucks are your current favorites?
Cannon and Belle, Tumble 22, Aster's Ethiopian Restaurant, and Komé
What do you enjoy most about AFBA membership?
Before the AFBA I was strictly a recipe blog, stuck in my own tastes. The number of Austin restaurants I've gotten to experience as a member has been really eye-opening,. Not only has AFBA membership brought my blog into the review scene, but it has helped my tastes evolve as a recipe creator, too.
Tell us about yourself! Where are you from? Why do you blog? What is your focus?
I am from a tiny town in Western Massachusetts and moved to Austin in 2013 with my now-husband in an effort to escape the endless winters. I blog because I have a degree in Creative Writing from Emerson College that didn't quite make itself into my career life, but I keep it as my side hustle.
I love my blog, and it helped me snag a book deal–my book "How to Eat a Lobster and Other Edible Enigmas Explained" came out in 2017. My book was O-Magazine's Cookbook of the Month for May of that year (OPRAH!!!).
I focus on foods for the millennial palate. I don't have much money, but I love good food. If I can make it, you can too!
What items are always in your fridge or pantry?
Cajun seasoning, truffle oil, and herbs de Provence. Any of these can jazz up a bland meal quite easily.

We hope you enjoy this member spotlight. Go check out Ashley's blog, Forking Up (and maybe buy her book, too)!
For even more on Ashley, read this profile on M Delish Boutique, by
Melissa Machowski, another AFBA Member.